Francodex anti-stress treats, kissoille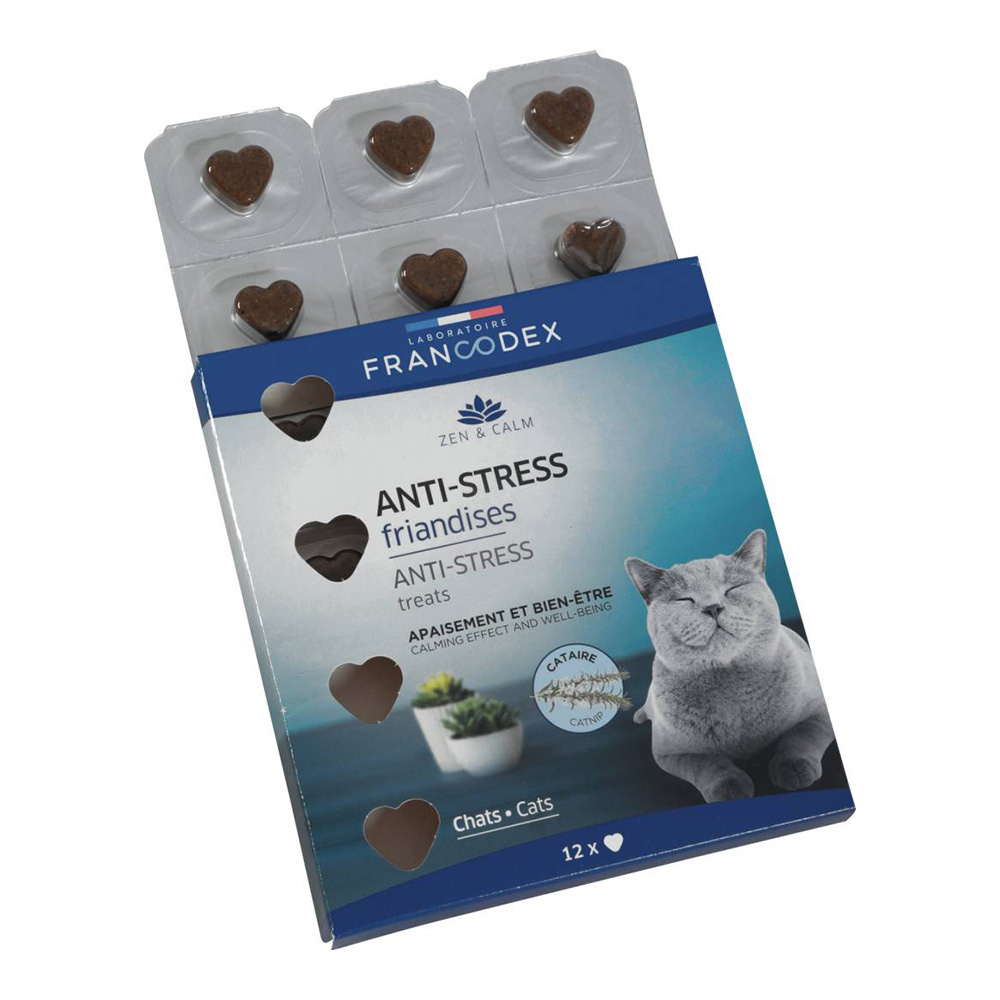 Francodex anti-stress treats, kissoille
---
kissanminttu ja L-tryptophan
---
Catnip : anti-stress effect Heart shape: Easy to swallow Soft texture

Cats and kittens often find themselves in unusual and sometimes stressful situations, such as moving house, the arrival of a new pet, and all kinds of other changes to their environment. FRANCODEX CALMING TREATS, with no added colouring agents, help cats rapidly adjust to stressful situations thanks to catnip, a plant known for its effect on well-being, while L-tryptophan, a precursor of serotonin, offers a long-term action. The treats are heart-shaped with a soft texture, designed to be easily ingested by all types of cats.

Fish and fish by-products (salmon flavour) 30%, catnip powder (Nepeta cataria L.) 4%, sodium pyrophosphate 1.5%, beer yeast 1%, salmon oil 0.5%, salt 0.25%, preservative, gelling agent. Additives (/kg) : nutritional additives : L-tryptophan 12,5 g, sensory additives : glycine: 400 mg. 
Analytical constituents : crude proteins 9%, crude ash 6% , crude fibre 1% , crude fat 2%, moisture 75%, metabolizable energy 1,2 kcal/treat.
Give your pet one treat per day, either by hand or in the feed bowl or another clean container, for 12 days. Dosing can start 3 to 5 days before a known stressful event.
Keep fresh water readily available. Keep out of the reach of children. Keep in a dry place, at room temperature. These treats are not a substitute for a balanced diet.