Francodex Dog&Cat Anti-bad Breath Spray 100ml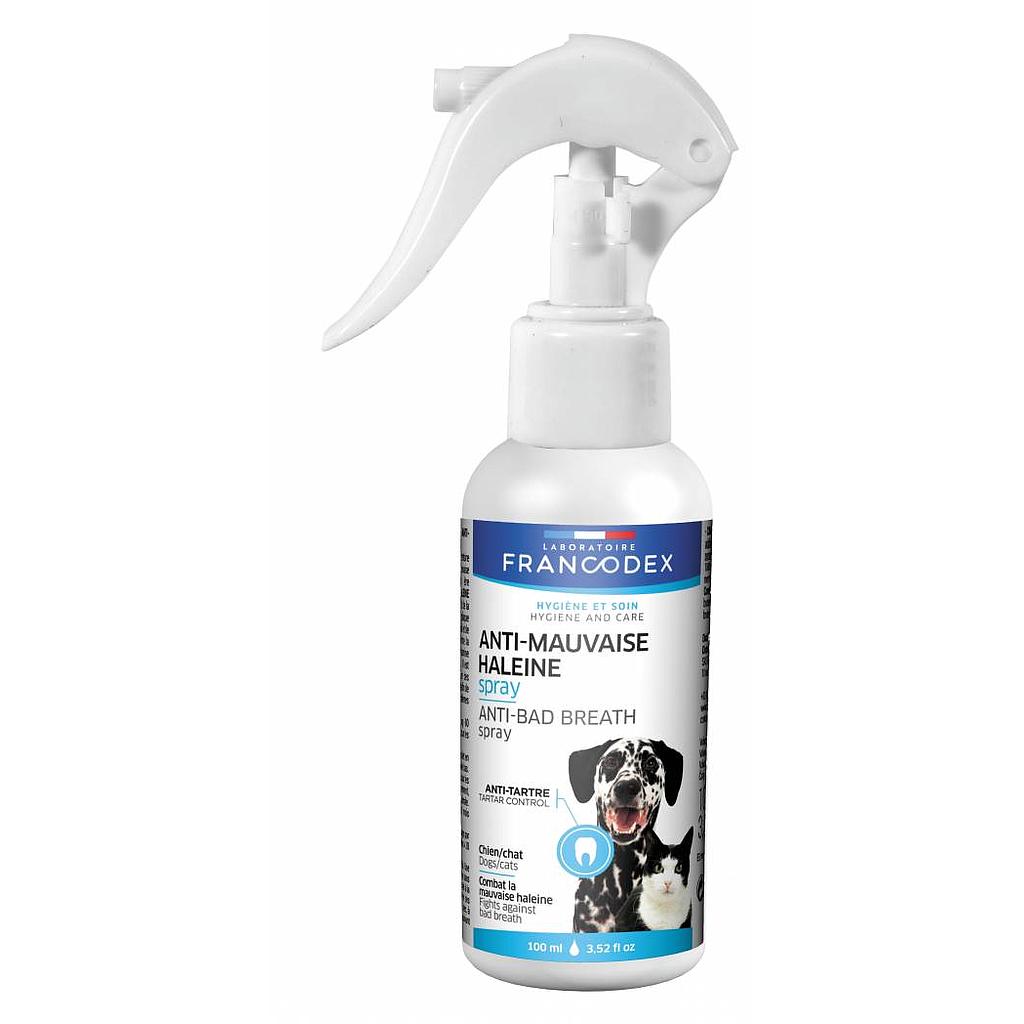 Francodex Dog&Cat Anti-bad Breath Spray 100ml
---
---
Contains pomegranate extract and vitamin C to help control tartar formation, as well as parsley seed and peppermint oils to effectively combat bad breath
The gradual formation of dental plaque causes tarter to build up on the teeth, bad breath as well as gingivitis that can be painful. Francodex Anti-bad Breath Spray contains pomegranate extract and vitamin C to help control tartar formation, as well as essential oils of parsley and peppermint to effectively combat bad breath in your pet. Vitamin C also helps maintain healthy gums. It is essential to ensure regular dental health care for your dog's teeth from a very young age in order to prevent tarter from forming and reduce dental problems. 

100ml = 120 days for dogs and cats < 5 kg - 80 days for dogs from 10 to 30 kg - 40 days for dogs over 30 kg.
Purified water, glycerin. 
Additives (/kg): nutritional additives: vitamin C 2250mg, sensory additives: pomegranate extract (Punica Granatum) 1000mg - parsley seed oil 100mg - peppermint oil 100mg, preservatives, emulsifiers. 
Analytical constituents: moisture 99,2%, crude protein <0,1%, crude ash <0,1%, crude fat <0,1%, crude fibre <0,1%.
Turn the bottle neck toward the left then down to unlock. Spray the product in your pet's mouth, on teeth and gums. For maximum effectiveness, use the product daily in between meals. Use from 2 months of age for dogs, 3 months for cats.

Feeding Recommendations: 

- For dogs and cats < 5 kg: 2-3 sprays per day;
- Dogs 10-30 kg: 4-5 sprays per day; 
- Dogs > 30 kg: 10 sprays per day.