Francodex Intestinet treats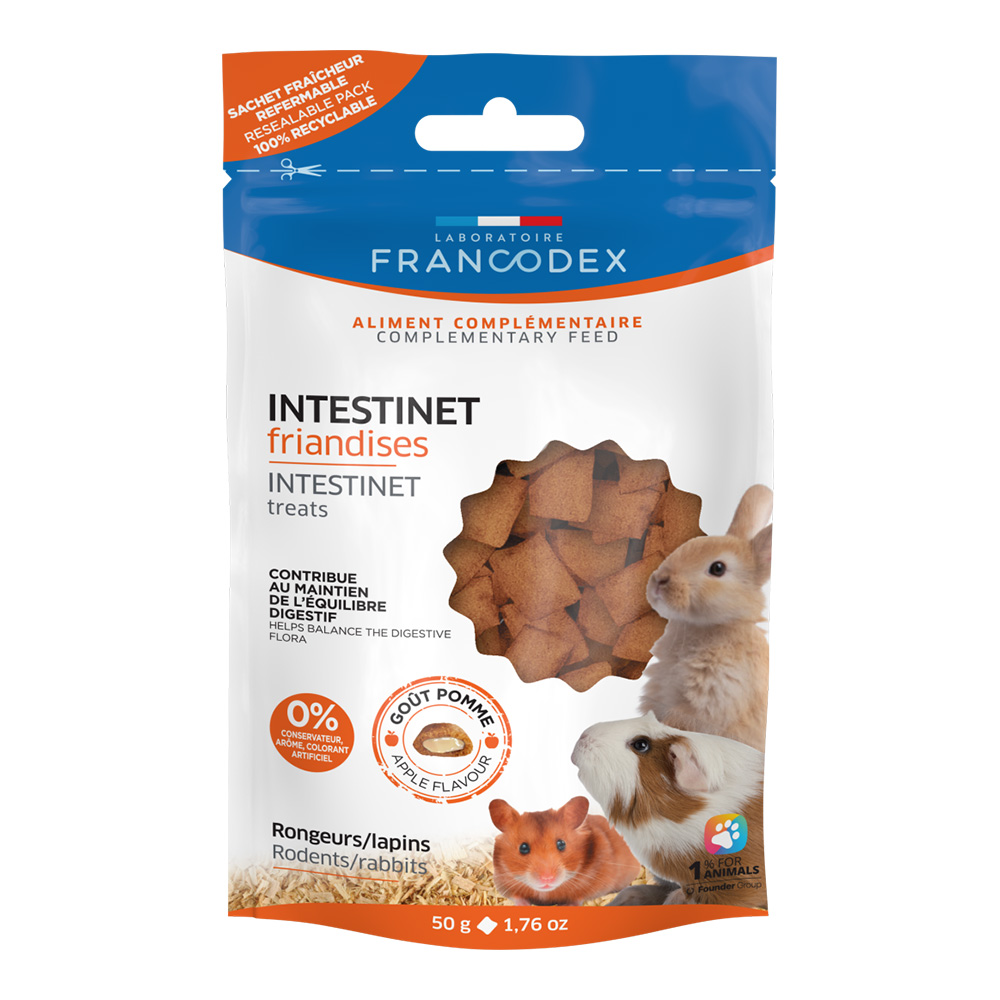 Francodex Intestinet treats
---
prebiootti herkku jyrsijöille
---
Crunchy on the outside and melting on the inside Very palatable treats Prebiotics

Pet rodents and rabbits have delicate intestines. Dietary imbalances and stress can lead to regular gastrointestinal disorders. These slightly crispy FRANCODEX INTESTINET TREATS contain prebiotics derived from algae which promote the development of a balanced digestive flora, beta-glucans from brewers' yeast known to support digestive immunity, w3 and w6 essential fatty acids derived from vegetable oil and vitamins.

Cereals (malt 4.5%), vegetable by-products (clover 3.5%, inulin 1%), canola oil, apple powder 2%, yeast 1%, minerals, seaweed meal 0.5%. Additives (/kg) : nutritional additives: Vitamin E (RRR alpha tocopheryl acetate 3a700) 113 mg, Vitamin A (3a672a) 2000 UI, Vitamin D3 (3a671) 300 UI, sensory additives: natural flavouring, rosemary extract, technological additives: antioxidant. Analytical constituents: Crude protein 8.55%, crude fat 22.2% (fatty acids w3: 0.96%, fatty acids w6: 2.4%), crude ash 1.65%, crude cellulose 2.96%, moisture 8.41%, calcium 0.15%, phosphorus 0.20%, sodium 0.20%. Metabolisable energy: 4154 kcal/kg or 3.3 kcal/treats.
Rabbits: 2 to 4 treats per day. 
Guinea pigs and gerbils: 2 treats per day. 
Hamsters and mice: 1 treat per day. 
Rats: 1 to 2 treats per day. 
You should preferably wait until your pet is 10 weeks old before offering these treats. 
This complementary food is not a substitute for a balanced diet. Use within one month of opening.
Keep fresh water readily available. Keep out of the reach of children. Store in a cool and dry place. Product not suitable for human consumption.